Posts Tagged 'Brendan Gaunce'
By TSR Staff |
2012 Draft Rankings
Thanks for checking out TSR's 2012 NHL Entry Draft Top 100 draft rankings! The list is divided up into 4 sections for ease of reading and includes detailed scouting reports on every player in our Top 100. Feel free to comment or connect with us on Facebook and Twitter!
By TSR Staff |
2012 Draft Rankings
TSR's 2012 NHL Entry Draft Mid-Term Top 60 Rankings are here! Click the link and find out who TSR has pegged as the top prospects in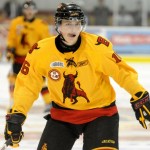 By TSR Staff |
TSR Features
TSR Contributor Scott McDougall had a chance to take in most of the Under 17 Tournament which was recently held in Winnipeg and Portage, where many of the top 1994 DOB and a handful of 1995 DOB's were in attendance. He has put together a list of some of the key players to watch from the tournament.
By Josh Lieberman |
TSR Features
TSR OHL Contributor Josh Lieberman tracks his thoughts on a recent game between the Belleville Bulls and Oshawa Generals, focusing on some of the players who will be eligible in the upcoming 2011 NHL Entry Draft.