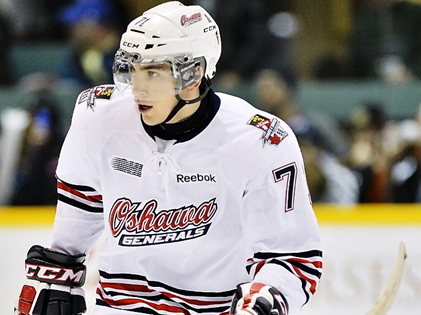 Terry Wilson / OHL Images
In case you weren't paying attention to the OHL last year, you probably missed hearing about the 1996 birth year rookie class that was among the biggest story lines throughout the year. Enter Michael Dal Colle, who is one of said talented 96 YOB rookies who will now look to take his game to the next level in his sophomore season with the Oshawa Generals. Oh and if you're wondering how you pronounce his quirky last name, it's 'Dal-Cole'.
Dal Colle doesn't come without pedigree - the Woodbridge, Ont. native was the 7th pick in the 2012 OHL Priority Selection - as he lived up to the pre-season hype and then some. As a 16-year-old rookie last year, Dal Colle finished 6th in team scoring as he was the team's top point producer under the age of 19. En route to a 15 goal, 48 point rookie campaign, he also carried over his success to the playoffs where he put up 5 points in the Generals' 9 games.
---
RELATED LINKS
McKeown a name to watch in 2014
NTDP F Kevin Labanc signs with Barrie
---
Numbers aside, what are we getting excited about? The skill level might be topping that chart at this point. Dal Colle is a rangy 6-foot-2, 175 pound forward who has a really unique skill level for a player with his size. He possesses excellent hockey senes and deception and is always a threat when he has the puck. Despite producing more assists than goals last year, he's a natural sniper and with a year under his belt, expect his goal total to double in Year 2.
Offensive skill aside, we will be looking for some improvement to Dal Colle's game this year; primarily in the skating department. Similar to players like John Tavares and Jason Spezza, skating is an area where Dal Colle will always need to concentrate his focus. The mechanics of his stride are adequate, but he's always been plagued with sluggish feet and limited acceleration to truly take advantage of his skill and shot. If he can come into the year with an extra step, it should allow him to become a very dangerous player off the rush and allow him to play more at Center which is a position that Oshawa would like to see him at - especially if Scott Laughton goes onto make Philadelphia on a full-season basis.
Where does Dal Colle stack up amongst the crop today? That's up for debate even a year out from the 2014 Entry Draft, but Dal Colle certainly has to be in consideration as a Top 10-15 prospect at this point. Players with his natural skill level and size are very hard to come by and he continues to show a drive to take his game to the next level that is matched by few. The 17-year-old didn't allow himself to be pushed around last year and displayed grit in the corners and an ability to protect the puck that only projects to add another element to his game moving forward. With better skating you can only expect his puck possession to continue to improve with the potential for value as a 3-zone player.
The Generals will enter 2013-14 losing no shortage of offensive firepower with the departures of Boone Jenner, Tyler Biggs, Lucas Lessio, (potentially) Scott Laughton, among others, so we'll learn a great deal about how Dal Colle holds up against tougher assignments and more responsibility. Judging on his career through Minor Midget to date, expect him to pass this latest test with flying colours.
Tags: 2014 nhl draft prospects | Michael Dal Colle | 2014 nhl draft |