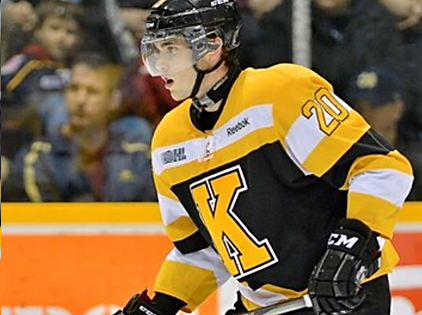 Terry Wilson / OHL Images
There's been no shortage of chatter about what was widely considered an average crop of OHL draftees. Perhaps we've been spoiled by what the league has churned out in recent years as the "average" crop from the league still netted 8 1st Round Picks in Newark - including 3 in the Top 10 alone. With the 2013 NHL Entry Draft now in the books, the focus will now shift to the 2014 Draft where the OHL is expected to lead the way with both quantity, and quality. Today we'll take a look at some names to look out for in the OHL this year.
Roland McKeown - the 2nd overall pick in the 2012 OHL Priority Selection - headlines a tantalizing group of draft eligible prospects in Kingston. The 6-foot-1, 185-pound defenseman is a highly gifted offensive talent with exceptional skating ability. After encountering an adjustment period with a youthful Frontenacs squad last year, McKeown quickly became one of the team's most trusted defensemen, logging heavy minutes as an OHL rookie. Finishing the year with 7 goals and 29 points, it would be unwise to expect nothing short of a significant bump in both departments this year. McKeown is coming off a solid showing with the Canadian U18 team as an underager and will have a great opportunity to start 2013-14 off with a bang as he should play an important role with the Canadian U18's at the Ivan Hlinka Tournament.
When looking into OHL top prospects for the 2014 NHL Entry Draft, you might as well begin looking at the top eligible scorer last season. Nikolay Goldobin, a late born 1995, was drafted into the CHL via the 2012 CHL Import draft - selected 36th overall by the Sarnia Sting. Known as a highly intelligent, offensively gifted winger, the Russian born prospect lived up to expectations in his inaugural rookie season putting up 30 goals for 68 points for an event point-per-game pace. Not unlike most 17-year-old's playing their first season in North America, Goldobin struggled with consistency at times as he adapted to the rigours of playing a new style of hockey. There's no denying the pure offensive talent that Goldobin possesses but we'll look to see what type of adjustments he makes to his two-way play this year as it certainly leaves a lot to be desired.
C Eric Cornel | Peterborough Petes
In his OHL draft year, Eric Cornel was a highly sought after asset from the Upper Canada Cyclones and the Petes invested into that notion by selecting him with the 3rd Overall Pick. Fast forward a season and to be frank, there are a lot of question marks heading into Year 2. The right-shot center has good size at 6-foot-2 but really struggled with the physical side of the game as his 175-pound frame really limited his impact last year. A native of Kemptville, Ont., Cornel has excellent vision and is a very adept playmaker - an impressive combination when you factor in his size. He has the ability to make those around him better and plays a polished game for a young player. The first half will really dictate what Cornel's sophomore season has in store for him, making it important for him to have a quick start and help the Petes make their way back to respectability.
Tags: 2014 nhl draft | Eric Cornel | 2014 nhl prospects | 2014 nhl draft prospects | Roland McKeown | Nikolay Goldobin |