Posts Tagged 'Ryan Strome'
By Jordan Meiners |
TSR Features
After a "modest" 2010-11 season, Ryan Strome is back on top of the OHL scoring race in 2012 with 15 goals and 43 points through his first 24 games played.
By Jordan Meiners |
TSR Features
Talent has never been a concern for Brett Ritchie, but finding consistency proved to be a challenge through his first 3 OHL seasons. Currently sitting in 3rd in OHL scoring, it looks like Ritchie has truly turned the corner
By Scott Boulet |
2011 Scouting Reports
Welcome to Day 15 of our Top 30 profiles. Ryan Strome was one of the biggest stories of the season and the dynamic Ice Dog forward has earned himself a #9 ranking on our final list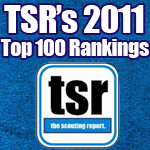 By Scott Campbell |
2011 Draft Rankings
,
TSR Features
Thanks for checking out TSR's 2011 NHL Entry Draft Top 100 Skaters. Be sure to check out the rest of the list through the navigation bar at the header and footer of this article, or by clicking 2011 Draft Rankings in the navigation bar above
By Scott Campbell |
TSR Features
Labeling Ryan Strome as this year's "Tyler Seguin" is surely inevitable, but Strome's ascension to blue-chip status is certainly worth noting.