Archive | July, 2011
By Scott Campbell |
TSR Features
Eric O'Dell has had a lot of change in his hockey career since being drafted 39th overall in 2008. The Ottawa, Ont. native is excited to be a part of the newly minted Winnipeg Jets organization and get a start on his professional career this fall.
By Scott Campbell |
TSR Features
There's been a lot of noise coming out of the OHL's West Division lately and the fall-out has resulted in five teams that are laced with NHL talent, something that is sure to attract the attention of hockey fans globally
By Scott Campbell |
TSR Features
Has the CHL's Subway Super Series grown stale? Scott Campbell proposes a drastic change to the current format that could provide the league with an interesting new concept for a new league showcase.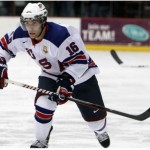 By Andrew Weiss |
TSR Features
,
TSR Interviews
Andrew Weiss had the opportunity to speak with Minnesota Wild 2nd round pick Jason Zucker about his freshman year at the University of Denver and what the future holds in store.
By Scott Campbell |
TSR Features
The final pick has been in and the 2011 NHL Entry Draft is now a thing of the past. You read our rankings, now it's time to check in and see how our rankings stacked up against the real picks from this year's NHL Draft.