Posts Tagged '2010 nhl draft prospects'
By Scott Campbell |
TSR Features
There's been a lot of noise coming out of the OHL's West Division lately and the fall-out has resulted in five teams that are laced with NHL talent, something that is sure to attract the attention of hockey fans globally
By Curtis Deem |
2011 Scouting Reports
Welcome to Day 11 of our Top 30 profiles. Duncan Siemens is a bit of a project, but his upside is certainly too good to pass up. The Saskatoon Blades defenseman checks in at #14 on the list.
By Andrew Weiss |
2011 Scouting Reports
Welcome to Day 6 of our Top 30 profiles. Hard working Stefan Noesen of the Plymouth Whalers is our 24th ranked skater.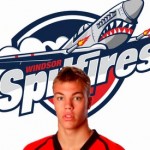 By Mike Kloepfer |
2010 Scouting Reports
Thanks for sticking around for our 30 days of scouting reports. Here is the final one, Windsor Spitfire star forward Taylor Hall
By Mike Kloepfer |
2010 Scouting Reports
Welcome to Day 29 of our 30 days of profiles. Today we look at star forward Tyler Seguin