Archive | March, 2011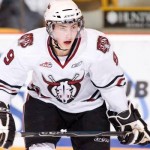 By Scott McDougall |
TSR Features
WHL contributors Scott McDougall and Curtis Deem put together their March rankings for NHL draft eligible players currently spending the year in the Western Hockey League.
By Scott Boulet |
TSR Features
TSR contributor Scott Boulet shares his recent thoughts about the Sudbury Wolves 95′ MM squad; a roster that features Ryan Kujawinski, a projected first round pick in May
By Scott Campbell |
TSR Features
TSR's Alex Arsenault was interviewed regarding Edmonton Oilers' prospect Jeremie Blain and his development this season
By Scott Campbell |
TSR Features
Labeling Ryan Strome as this year's "Tyler Seguin" is surely inevitable, but Strome's ascension to blue-chip status is certainly worth noting.
By JeffKrever |
TSR Features
Update on the Ottawa 67′s from our Ottawa contributor Jeff Krever, as the 67′s look to battle injuries with the OHL playoffs looming.