Posts Tagged 'Taylor Hall'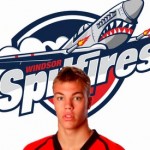 By Mike Kloepfer |
2010 Scouting Reports
Thanks for sticking around for our 30 days of scouting reports. Here is the final one, Windsor Spitfire star forward Taylor Hall
By Scott Campbell |
2010 Draft Rankings
Thanks for checking out TSR for our 2010 NHL Entry Draft Top 100 list! Be sure to check out the rest of the list through the navigation bar at the header and footer of this article, or by clicking 2010 Draft Rankings in the navigation bar on the right.
By Scott Campbell |
TSR Features
Four OHL prospects will headline the NHL Entry Draft once again this year in Los Angeles as the league continues to be a showcase for some of the top teen-aged players in the world.
By Scott Campbell |
2010 Draft Rankings
TSR releases it's Mid-Term Top 60 skaters for the 2010 NHL Entry Draft. I'd like to thank all of our contributors for their support in releasing the rankings, as well as the help of several other sources who would like to remain anonymous. Enjoy, and feel free to leave a comment or flip us an email. Cheers!
By Scott Campbell |
2010 Draft Rankings
With nearly half of the 2009/2010 OHL Season completed, here is TSR's look at how the 2010 Draft Crop from the OHL is beginning to stack up with the Top 50 skaters and Top 8 goalies.