Posts Tagged 'Matt Puempel'
By Scott Campbell |
TSR Features
There is no shortage of NHL calibre talent in Peterborough with blue chippers like Slater Koekkoek and Matt Puempel leading the resurgence of one of the most prestigious CHL teams.
By Andrew Weiss |
2011 Scouting Reports
Welcome to Day 12 of our Top 30 profiles. Matt Puempel was hampered by a season ending injury, but his effortless release and scorer's instincts cannot be doubted.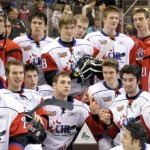 By Mike Kloepfer |
TSR Features
TSR Contributor Mike Kloepfer was on hand at the Air Canada Centre in Toronto for the 2011 CHL Top Prospects Game. He's compiled some notes of players who put on a good showing, and others who left something to be desired in the game.
By Josh Lieberman |
TSR Features
TSR's Josh Lieberman gives his analysis and thoughts on some of the big NHL prospects from the Brampton Battalion and Peterborough Petes.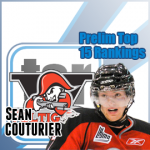 By Scott Campbell |
2011 Draft Rankings
,
TSR Features
Check out TSR's Preliminary Top 15 Rankings for the 2011 NHL Entry Draft. With a trio of players contending for top honours this year, find out who TSR has pegged as the top prospect heading into the 2010/2011 Season!