Posts Tagged 'Jonathan Huberdeau'
By Alex Arsenault |
2011 Scouting Reports
Welcome to Day 19 of our Top 30 profiles. Jonathan Huberdeau is making a case for 2nd overall in the draft, but the highly skilled Sea Dogs forward checks in at #5 on our list.
By Scott Campbell |
2011 Draft Rankings
TSR is pleased to release our Mid-Term Top 60 skaters for the 2011 NHL Entry Draft. The list is broken up into two separate articles for ease of reading, but we hope you enjoy the guide!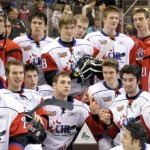 By Mike Kloepfer |
TSR Features
TSR Contributor Mike Kloepfer was on hand at the Air Canada Centre in Toronto for the 2011 CHL Top Prospects Game. He's compiled some notes of players who put on a good showing, and others who left something to be desired in the game.
By Alex Arsenault |
TSR Features
QMJHL Contributor Alex Arsenault shares his opinion on some of the other 2011 Draft Eligible Players from the QMJHL who haven't been getting quite as much attention as the highly touted Sean Couturier.
By Ryan Van Horne |
TSR Features
The Saint John Sea Dogs came into the year with very high expectations, but thus far Head Coach Gerard Gallant has been concerned about the play of some of his blue-chip prospects.