2011 Draft Rankings
,
TSR Features
| 30 May 2011
Be sure to check out the rest of our Top 100: (1-25) (26-50) (51-75)(76-100)
51. RC Michael St. Croix - Edmonton (WHL)
DOB: Apr. 10/93 | Shoots: R | Height: 5.11 | Weight: 179lbs 
Midterm Rank: 45 | League Rank: 10th WHL | Country Rank: 21st Canada
Michael St. Croix had a solid, though not spectacular season in the WHL this year. The skilled center built on his rookie campaign by becoming a leader with the young Oil Kings, scoring 75 points and improving his plus/minus rating by an impressive 49 points in his second year. St. Croix is a competitive player who likes to set up his teammates, but can also finish when he gets the chance. Next season will go a long way in determining what kind of player St. Croix will be. If he can produce at the level he's capable of, he could quickly establish himself as one of the potential steals in the 2011 draft.
52. RC Reid Boucher - USNTDP U18 (USHL)
DOB: Sep. 8/93 | Shoots: R | Height: 5.10 | Weight: 192lbs 
Midterm Rank: NR | League Rank: 8th USHL | Country Rank: 16th USA
Boucher has elite puck skills and while not a great skater, he's very good at changing directions and is shifty on his skates. Boucher's ability to continue to develop will hinge on his keen offensive instincts and ability to see the play develop. He also possesses the ability to complement other highly skilled players such as Grimaldi which is a skill that can sometimes be taken for granted. He must also show the ability to adapt his game against bigger, more physical players.
53. LD Stuart Percy - Mississauga (OHL)
DOB: May 18/93 | Shoots: L | Height: 6.01 | Weight: 186lbs 
Midterm Rank: 44 | League Rank: 15th OHL | Country Rank: 22nd Canada
We had Percy up pretty high in our mid-terms and are still high on the Mississauga defenseman but feel he's been eclipsed by some of the other players as the season has progressed. Percy is still a solid value pick as he plays a very smart game and plays mistake-free hockey in a lot of situations, but his high-end potential is a bit of a detractor. He isn't an overly physical player, but Percy does use his reach well and is positionally smart. With his strong showing in the Memorial Cup, he could certainly go higher than our ranking here, which would not be a poor move at all.
54. RW Brett Ritchie - Sarnia (OHL)
DOB: Jul. 1/93 | Shoots: R | Height: 6.03 | Weight: 190lbs 
Midterm Rank: 53 | League Rank: 16th OHL | Country Rank: 23rd Canada
There were high expectations for Ritchie this year; something he struggled to deal with at the start of the year. Initially overshadowed by teammates Alexander Galchenyuk and Nail Yakupov, Ritchie found his scoring touch in the second half of the season and was one of Canada's better forwards at the U18's. A big winger with a good shot, Ritchie can be a pretty effective sniper when he's on his game. The symptoms in his game we're not overly fond of is that he is inconsistent, and while shielding the puck well, he doesn't really play with any sense of physicality. If you see him play regularly, you will probably even find that his game can be plagued by laziness. Despite our concerns, he does have the skill-set where a team will be willing to take a chance on him and see what they can get after a few years of development.
55. LC Joseph LaBate - Holy Angels (HS-MN)
DOB: Apr. 16/93 | Shoots: L | Height: 6.04 | Weight: 180lbs 
Midterm Rank: 58 | League Rank: 2nd HS-MN | Country Rank: 14th USA
LaBate held steady in our rankings this season and has definitely put his name on the map this season. He's got the frame that will definitely interest NHL teams and his skating ability and willingness to play in front of the net will surely entice NHL teams as well. The Wisconsin commit will benefit from playing in the NCAA, where he'll have an opportunity to add some much needed strength to his frame while playing against older players over the next 3-4 seasons.
56. LW Adam Lowry - Swift Current (WHL)
DOB: Mar. 29/93 | Shoots: L | Height: 6.04 | Weight: 184lbs 
Midterm Rank: 52 | League Rank: 11th WHL | Country Rank: 24th Canada
The son of former NHLer (and current Calgary Flames assistant coach) Dave Lowry, Adam Lowry is a power forward winger that overcame a slow start to have a solid 17 year old season with Swift Current. After attending Canada's U18 tryout camp in August, Lowry dealt with a bout of mono in September forcing him to the sidelines for a few weeks. Even after that, it seemed to take a couple months for him to get his game (and energy) back. Since late November, Lowry has nearly been a PPG player (39 points in his final 46 games) for the Broncos. At 6'4, Lowry uses his size well, is good along the boards and is willing to play the body. He likes to provide a screen in front of the net and is able to use his size to create space for his teammates. His footspeed needs some work but for a team that can afford to show some patience, Lowry could turn out to be a good complimentary player on an NHL team.
57. LW Nicholas Shore - Denver (NCAA)
DOB: Sep. 26/92 | Shoots: L | Height: 5.11 | Weight: 185lbs 
Midterm Rank: 37 | League Rank: 4th NCAA | Country Rank: 15th USA
This season would have to be considered a bit of a disappointment for Shore, who many expected to be more of a contender to be a first-round pick; rather than fighting to maintain his status as a second rounder. Shore is a solid two-way player who has an above average skill-set and pretty good creativity when the puck is on his stick. He doesn't quite have the size that his older brother does, but he still has managed to be an effective freshman player without it. He's gone a little under the radar and should be a nice value pickup in this range.
58. LW Miikka Salomaki - Karpat (SM-Liiga)
DOB: Mar. 09/93 | Shoots: L | Height: 5.10 | Weight: 185lbs 
Midterm Rank: NR | League Rank: 2nd SM-Liiga | Country Rank: 2nd Finland
Salomaki spent the majority of the season in the SM-Liiga and wasn't out of place playing in Finland's top men's hockey league. He also had an impressive showing at the World Juniors as a 17-year-old and quickly established himself as a gritty player who was willing to sacrifice his body despite being a little undersized. Salomaki is a solid offensive contributor but when you factor in his grit and willingness to compete, he can certainly find a role at the next level with that combination.
59. LC Daniel Catenacci - Sault Ste. Marie (OHL)
DOB: Feb. 09/93 | Shoots: L | Height: 5.10 | Weight: 185lbs 
Midterm Rank: 36 | League Rank: 17th OHL | Country Rank: 25th Canada
Catenacci's fall in our rankings is more a symptom of other players moving ahead of him rather than faults of his own. After a bit of a disappointing first year in the OHL, Catenacci took a more offensive role with the Greyhounds this season and showed more of an ability to create opportunities when he's on the ice. Catenacci's issue for us comes down to defining what type of a role he can have at the next level. He's a good defensive player and tenacious center at this level, but how much will that translate to the NHL given his size? We're not sure he has enough offense to be a Top 6 guy, which makes him a bit of a tweener in our eyes.
60. LD Xavier Ouellet - Montreal (QMJHL)
DOB: Jul. 29/93 | Shoots: L | Height: 6.01 | Weight: 177lbs 
Midterm Rank: 53 | League Rank: 7th QMJHL | Country Rank: 26th Canada
Ouellet had a quick start to begin the year but cooled down as the season progressed. He isn't a natural offensive defenseman but his game did take some positive steps forward with more ice-time this season. Ouellet is a steady defender who makes good decisions with the puck and is very composed in his own end. He doesn't force plays and does a good job of utilizing outlets instead of just hammering it off the glass. Is a good fit towards the end of the second round and will be a solid pick-up for any team looking to add some depth to their prospect pool on the backend.
61. LD Rasmus Bengtsson - Rogle (Allsvenskan)
DOB: May 14/93 | Shoots: L | Height: 6.02 | Weight: 196lbs 
Midterm Rank: NR | League Rank: 2nd Allsv. | Country Rank: 9th Sweden
Bengtsson really came on during the second half of the season and is a player with tremendous upside which should justify a draft selection within the top three rounds. Part of what could be a pretty solid crop of Swedish defensemen in 2011, Bengtsson plays a responsible defensive game while also being a very smart player with good offensive instincts. He's going to need some time to develop, but he's a player who could be a very nice pick-up for any team willing to step up and take him.
62. LD Myles Bell - Regina (WHL)
DOB: Aug. 19/93 | Shoots: R | Height: 6.00 | Weight: 202lbs 
Midterm Rank: 31 | League Rank: 12th WHL | Country Rank: 27th Canada
Unfortunately we can't talk about Bell without talking about his recent tragic car accident. Bell is an offensively gifted defenseman that plays with a physical edge. He is an effective offensive weapon because he is able to both distribute the puck and shoot it very hard. While Bell has some holes in his defensive game, there is much to like about his offensive abilities and his prospects of making the NHL. However, since that accident, there will be serious questions that will need to be asked. What happened that day? What are the repercussions for what has been done? What are the steps needed for getting the 18 year-old Bell's life back on track? Is Bell physically okay? Is he mentally okay? There will be many factors that will be examined and all that really can be done is to wish everyone involved all the best.
63. LD Andrei Pedan - Guelph (OHL)
DOB: Aug. 07/93 | Shoots: L | Height: 6.03 | Weight: 190lbs 
Midterm Rank: NR | League Rank: 18th OHL | Country Rank: 4th Russia
Pedan was impressive during the pre-season with Guelph and then had a bit of a tough adjustment to the OHL during the first couple months of the season. In the new year, however, he finally started to see his game come around and really showed some flashes of the player he can be during Guelph's brief playoff experience. He's a big defenseman who is a fluid skater but is still improving his agility and first few steps. Sometimes is guilty of trying to do too much with the puck and is still learning the North American game. Pedan has the raw tools to be a solid puck moving defender with some physical upside, and as he finds his comfort zone, he can start to integrate his offensive game into his play as well.
64. LC Markus Granlund - HIFK (Jr. A SM-Liiga)
DOB: Apr. 16/93 | Shoots: L | Height: 5.10 | Weight: 169lbs 
Midterm Rank: NR | League Rank: 1st Jr. A SM | Country Rank: 3rd Finland
Granlund certainly doesn't have the talent that his older brother Mikael possesses, but Markus makes up for it with solid two-way play and quality intangibles. A great skater with high-end speed, Granlund brings a similar style of game that Daniel Catenacci brings to the ice. He was a fine player during the U18's and showed some good chemistry with his teammates, providing some much needed offense for the Finnish squad.
65. RW Shane McColgan - Kelowna (WHL)
DOB: Jan. 01/93 | Shoots: R | Height: 5.10 | Weight: 160lbs 
Midterm Rank: 50 | League Rank: 13th WHL | Country Rank: 16th USA
The diminutive McColgan has been very effective in two Western Hockey League seasons, scoring at nearly a point per game pace. McColgan sees the ice well, has great hands, and definitely isn't afraid to go to the dirty areas. The big question on everyone's mind is whether or not he will be able to play his style at the pro level. The 5-9 McColgan hasn't let his size hold him back yet, as he has proven a willingness to battle with any player in the WHL while generally staying healthy. If he can get his game to the next level, he could be a big draft day steal.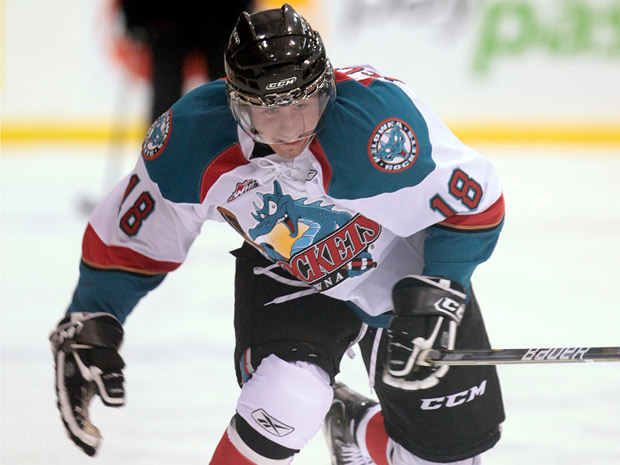 66. LW Shane Prince - Ottawa (OHL)
DOB: Nov. 16/92 | Shoots: L | Height: 5.11 | Weight: 185lbs  
Midterm Rank: 57 | League Rank: 19th OHL | Country Rank: 17th USA
Prince is a diminutive forward who really burst onto the scene playing with Tyler Toffoli and Ryan Martindale this season, forming one of the top trios in the OHL. While undersized, Prince is a good offensive player and has a wealth of talent that he usually showcases several times during the course of a game. He's got very good hands and has deceptive speed that he will use to throw off the defense to make a nifty pass to set up a teammate. He's also got a good shot of his own and does a good job finding space to get a shot off. We have some concerns about Prince's competitiveness, as he is guilty of taking shifts off, and the fact that he hasn't convinced us that he's going to be more than a great junior player.
67. LW Travis Ewanyk - Edmonton (WHL)
DOB: Mar. 29/93 | Shoots: L | Height: 6.00 | Weight: 170lbs  
Midterm Rank: NR | League Rank: 14th WHL | Country Rank: 28th Canada
Ewanyk had a coming out party in the last month or so of the season. After ending the regular season on a bit of a mini hot streak, Ewanyk was handed the task of shadowing Ryan Nugent-Hopkins in the first round of the playoffs where Ewanyk was able to hold his own at even strength. He then represented Canada at the U18 World Championships where he continued his fine play. Ewanyk is a good skater and has the intelligence and grit needed to play against top offensive players. While his offensive upside may be a lower than many top picks, Ewanyk's play without the puck will have him in consideration to be a higher pick than his modest numbers (27 points in 72 games) would suggest.
68. LW Max Friberg - Skovde (Sweden D1)
DOB: Nov. 20/92 | Shoots: R | Height: 5.11 | Weight: 185lbs 
Midterm Rank: 55 | League Rank: 1st Swe-D1 | Country Rank: 10th Sweden
Nobody is quite sure what to expect with Friberg, especially given the fact he played in a lower tiered league this past season. Friberg is an undersized forward who competes pretty hard and brings it every shift. His offensive upside has been questioned, but some people may be a little hard on him. His role at the next level could be questionable, and he certainly didn't have a great finish to the season, but we'll see how he progresses the next couple of seasons.
69. LW Olivier Archambault - Val d'Or (QMJHL)
DOB: Feb. 16/93 | Shoots: L | Height: 5.10 | Weight: 164lbs 
Midterm Rank: NR | League Rank: 7th QMJHL | Country Rank: 29th Canada
Former top pick in the QMJHL Draft took some positive steps forward this season with an increased opportunity. Archambault isn't an overwhelming player but does a lot of little things well to be a dangerous presence on the ice. Pretty strong for his size, and manages to find some space on the ice despite not having high-end speed. He does a good job of finding opportunities to create offense and should continue to develop over the next couple of years.
70. LD Mike Reilly - Shattuck St. Mary's (HS-MN)
DOB: Feb. 16/93 | Shoots: L | Height: 5.10 | Weight: 164lbs 
Midterm Rank: NR | League Rank: 3rd HS-MN | Country Rank: 18th USA
Reilly is an undersized defenseman who is going to need a few seasons to develop at Minnesota, but could be worth the wait for whatever NHL team selects him. Reilly has good speed and is able to advance the puck with a combination of vision and assertiveness with the puck. The principal concern for Reilly is adding strength to his frame, but he'll have some time in the NCAA to worry about those issues.
71. LW Michael Mersch - Wisconsin (NCAA)
DOB: Nov. 02/92 | Shoots: R | Height: 6.01 | Weight: 194lbs 
Midterm Rank: NR | League Rank: 6th NCAA | Country Rank: 19th USA
Mersch certainly won't be a player that fools you into thinking top line NHL player due to his skating concerns, but he makes up for it in other areas. Mersch is a gritty forward who does the little things well and wins battles around the ice. If his offensive game comes around, he could be serviceable as a player that can stand in front of the net and muck it out in the dirty areas of the ice. If not, he has the mindset where he could be an effective grinder.
72. LD Zakhar Arzamastsev - Metallurg (KHL)
DOB: Nov. 06/92 | Shoots: L | Height: 6.00 | Weight: 192lbs 
Midterm Rank: NR | League Rank: 1st KHL | Country Rank: 5th Russia
Our first KHL player is Zakhar Arzamastsev, who has warmed up to scouts as the year has progressed. He's a smooth skating defender who plays a mistake free game and makes a lot of good decisions with and without the puck. We'll see what NHL teams think of his commitment to the KHL at the draft, but he would be a nice pickup early in the 3rd round.
73. RC Vincent Trocheck - Saginaw (OHL)
DOB: Jul. 11/93 | Shoots: R | Height: 5.10 | Weight: 170lbs 
Midterm Rank: NR | League Rank: 20th OHL | Country Rank: 20th USA
Trocheck was one of the top players with the Saginaw Spirit this past season and does a lot of things well, but lacks a defining quality to his game. A little undersized, Trocheck isn't blazing fast and doesn't quite have the talent to consistently be an offensive threat; also being guilty of taking some shifts and games off. When he's on, Trocheck is a player that has some decent upside as he has a pretty nifty snap shot and isn't afraid to use it. He also will take his game to the front of the net and some of the areas that teammate Brandon Saad tends to avoid. If Trocheck were a little bigger or more dynamic, he could make a case to be in the Top 60, but in this draft, he's better suited to be selected somewhere around the 3rd or 4th round.
74. RD Albert Yarullin - AK Bars Kazan (MHL)
DOB: Mar. 05/93 | Shoots: R | Height: 6.00 | Weight: 194lbs 
Midterm Rank: NR | League Rank: 2nd MHL | Country Rank: 6th Russia
Yarullin is another player who certainly boosted his stock during the U18's where he was one of the better defenseman and a productive one at that, with 11 assists in only 7 games. Yarullin is a dependable defenseman who plays an effective game and also sees ice-time in a variety of situations. The Russian factor, again, has to be considered, but we'll see how NHL teams feel about it.
75. RW Logan Shaw - Cape Breton (QMJHL)
DOB: Nov. 05/92 | Shoots: R | Height: 6.03 | Weight: 190lbs 
Midterm Rank: NR | League Rank: 8th QMJHL | Country Rank: 30th Canada
Shaw started to find his game during his third year in the QMJHL and could be a bit of a sleeper to look out for given his large frame and unpolished game. The Mooseheads winger was one of the bright spots on a pretty poor club last season and has pretty good goal scoring instincts and has the ability to get things done. As mentioned, he's pretty raw and is definitely a risky project, but in a draft that starts to thin out after the second round, he could be worth the risk.

Be sure to check out the rest of our Top 100: (1-25) (26-50) (51-75) (76-100)
Tags: 2011 nhl draft, 2011 nhl draft prospects, 2011 nhl draft rankings, Adam Lowry, Albert Yarullin, Andrei Pedan, Brett Ritchie, Daniel Catenacci, Joseph LaBate, Logan Shaw, Markus Granlund, Max Friberg, Michael Mersch, Michael St. Croix, Miikka Salomaki, Mike Reilly, Myles Bell, Nicholas Shore, Olivier Archambault, Rasmus Bengtsson, Reid Boucher, Shane McColgan, Shane Prince, Stuart Percy, Travis Ewanyk, Vincent Trocheck, Xavier Ouellet, Zakhar Arzamastsev