Posts Tagged 'Shane Prince'
By Scott Campbell |
2011 Draft Rankings
Welcome to Part Two of TSR's Mid Term Top 60 Skaters with rankings running through 31-60.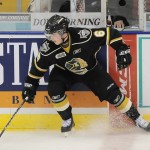 By Scott Campbell |
2011 Draft Rankings
,
TSR Features
Check out the 2011 NHL Entry Draft mid-season rankings for OHL Skaters (11-20) as TSR's team of OHL Contributors publish their league rankings.
By Mike Kloepfer |
TSR Features
OHL Contributor Mike Kloepfer looks at some of the top NHL prospects featured in a talented Ottawa 67′s roster with players who were already drafted, as well as guys who will not be eligible all the way until 2013.
By Scott Campbell |
TSR Features
Every season there is a new group of players vying for NHL Draft selections, which brings new stories and new prospects. While the top players are generally known going into the year, there are always players who seemingly come out of nowhere to climb the charts. We'll take a look at who some of those players could potentially be from the OHL's Eastern Conference.