Posts Tagged 'Sean Monahan'
By TSR Staff |
2013 Draft Rankings
,
TSR Features
TSR's March Top 60 Rankings are here in an all-new PDF Version! With a heated race for 1st overall, check out who tops our list as the 2013 NHL Draft continues to draw closer.
By TSR Staff |
2013 Draft Rankings
,
TSR Features
Nathan MacKinnon has secured his spot as TSR's top prospect for the 2013 NHL Draft. But that's not to say Seth Jones and company aren't ready to give him a run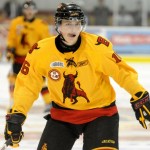 By TSR Staff |
TSR Features
TSR Contributor Scott McDougall had a chance to take in most of the Under 17 Tournament which was recently held in Winnipeg and Portage, where many of the top 1994 DOB and a handful of 1995 DOB's were in attendance. He has put together a list of some of the key players to watch from the tournament.
By Mike Kloepfer |
TSR Features
OHL Contributor Mike Kloepfer looks at some of the top NHL prospects featured in a talented Ottawa 67′s roster with players who were already drafted, as well as guys who will not be eligible all the way until 2013.
By Mike Kloepfer |
TSR Features
TSR's Mike Kloepfer breaks down a first round mock draft for the upcoming 2010 OHL Priority Selection. The Draft will take place on Saturday May 1st, 2010 at 9:00am via conference call. The picks can all be tracked in real time at www.ontariohockeyleague.com