Posts Tagged 'Hunter Shinkaruk'
By Daniel Lizee |
TSR Features
Dan Lizee provides an early season update on the 6 WHL players who were ranked in TSR's 2013 Preliminary NHL Entry Draft Rankings
By TSR Staff |
2013 Draft Rankings
,
TSR Features
Nathan MacKinnon has secured his spot as TSR's top prospect for the 2013 NHL Draft. But that's not to say Seth Jones and company aren't ready to give him a run
By Daniel Lizee |
TSR Features
After a banner year for the WHL at the 2012 NHL Entry Draft in Pittsburgh, the WHL has another strong class of prospects that will headline the 2013 edition
By Daniel Lizee |
TSR Features
Daniel Lizee gives his thoughts on a couple of highly touted 2013 NHL Draft Eligibles who are currently at different stages of their young WHL careers.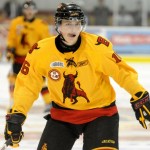 By TSR Staff |
TSR Features
TSR Contributor Scott McDougall had a chance to take in most of the Under 17 Tournament which was recently held in Winnipeg and Portage, where many of the top 1994 DOB and a handful of 1995 DOB's were in attendance. He has put together a list of some of the key players to watch from the tournament.