Posts Tagged 'Damon Severson'
By TSR Staff |
2012 Draft Rankings
TSR's 2012 NHL Entry Draft Mid-Term Top 60 Rankings are here! Click the link and find out who rounds out the Top 60 list for
By Daniel Lizee |
TSR Features
TSR's WHL Contributors chip in with their first of two articles featuring the WHL Quarter Poll Rankings for 2012 NHL Draft eligible players.
By Curtis Deem |
TSR Features
Our WHL contributors team up to bring their pre-season outlook for the 2012 WHL class. A group of extremely talented defensemen headline this year's group of draft eligible players from the WHL.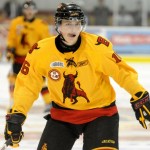 By TSR Staff |
TSR Features
TSR Contributor Scott McDougall had a chance to take in most of the Under 17 Tournament which was recently held in Winnipeg and Portage, where many of the top 1994 DOB and a handful of 1995 DOB's were in attendance. He has put together a list of some of the key players to watch from the tournament.