Posts Tagged 'Anthony Duclair'
By Ryan English |
TSR Features
The QMJHL's depth at the 2013 NHL Draft extends well beyond Nathan MacKinnon and Jonathan Drouin. Find out how the Q's best performed at the Top Prospects Game
By Ryan English |
TSR Features
TSR's QMJHL contributors Ryan English and Alex Arsenault teamed up to provide an updated Mid-Season report on the QMJHL's top NHL Draft prospects for 2013.
By TSR Staff |
2013 Draft Rankings
,
TSR Features
Kingston centre Ryan Kujawinski leads off Part 2 of our Preliminary Top 30 as our 16th ranked player leading into the 2012-13 season
By Ryan English |
TSR Features
Contributor Ryan English shares his Pre-Season Top 10 list from the QMJHL as the hockey world gets set for one of the best crops of QMJHL players in recent memory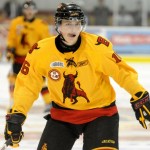 By TSR Staff |
TSR Features
TSR Contributor Scott McDougall had a chance to take in most of the Under 17 Tournament which was recently held in Winnipeg and Portage, where many of the top 1994 DOB and a handful of 1995 DOB's were in attendance. He has put together a list of some of the key players to watch from the tournament.