Posts Tagged 'Scott Mayfield'
By Rich Michalowski |
2011 Scouting Reports
Welcome to Day 3 of our Top 30 profiles. Today's feature is hulking Youngstown Phantoms defenseman Scott Mayfield, who is slated to attend Denver University next season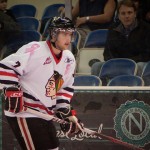 By Scott Campbell |
2011 Draft Rankings
,
TSR Features
TSR's NHL Draft Top 100 Skaters continues with Part Two
By Scott Campbell |
2011 Draft Rankings
TSR is pleased to release our Mid-Term Top 60 skaters for the 2011 NHL Entry Draft. The list is broken up into two separate articles for ease of reading, but we hope you enjoy the guide!
By Rich Michalowski |
TSR Features
The Green Bay Gamblers have a few players who are on the NHL radar. Our USHL writer had a chance to take in a Gamblers game recently against the Youngstown Phantoms and review some of the high profile players on the Green Bay roster.
By Rich Michalowski |
TSR Features
Jaden Schwartz was on display against the Youngstown Phantoms this weekend, and the Wilcox, Saskatchewan native was quick to show why some scouts are starting to consider him as a first round pick in the 2010 NHL Entry Draft